#pembrokepines, #miramarfl, #gardencityny
#wecleangarages, #garagecleaningservices
How To Turn Your Unused Garage Space Into Extra Income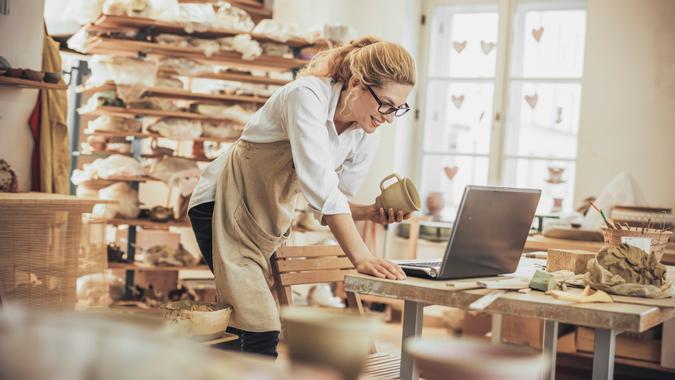 poba / Getty Images
Inflation is breaking the budget of Americans, with rising prices for food, fuel, shelter and more increasing the cost of living by 8.5% over the past year, according to the Department of Labor.
In fact, families now are paying $327 a month more on daily expenses, CNBC reported, citing figures from Moody's Analytics. Since that's a large strain on the budget, many families could be looking for ways to bring in more income or reduce expenses.
Discover: 22 Side Gigs That Can Make You Richer Than a Full-Time Job
Also See: 9 Best Small Business Ideas To Make Money From Home
Look no further than your home. In fact, if you've got a well-ordered and organized garage, you could turn it into cash. (And if it isn't so neat and tidy, if it's littered with old bikes your kids don't ride and stuff your family doesn't use, clean it out and have a garage sale to make some extra money.)
So, just how can you transform your garage into a source of income? Read on for some ideas.
Rent It for Car Storage
You might drive an older model that you'd feel comfortable parking in the driveway or on the street, leaving your garage spot empty. It could be a valuable commodity for a car enthusiast who has an extra auto and nowhere to put it — or for someone with a convertible that comes out in the summer but needs a storage spot in the winter. PeerStorage, an Airbnb-type website for storage spaces, estimates a garage rents for $201 per month for storage.
POLL: How Much Do You Expect Your Tax Refund To Be This Year?
Rent It as a Car Repair Garage
Some car owners have "project" automobiles to restore but nowhere to do the work. Maybe they live in apartments without garages, or maybe their homeowners associations prohibit car repairs on site. As long as your garage isn't restricted by such conditions and you and the car owner can agree on hours that repair work can occur, you can earn some extra money.
Turn It Into a Studio
With the growth of podcasting and TikTok videos, creators need places to record. As long as your space has proper heating and cooling, a few additions could make it a desirable studio to be rented by the hour or the day. You'll need to invest a few hundred dollars in appropriate lighting, a green screen and some soundproofing for the video set. Amazon sells what you need, and YouTube has plenty of how-to videos. Refinish an old table and chairs to create seating for podcasters.
Open a Small Repair Shop
Your friends and neighbors might turn to you to fix their broken lawnmowers, dirt bikes or snow blowers. And you could do it for others if you have all the necessary tools to open a small-engine repair shop. Check with your local jurisdiction about business licensing or special certifications that are needed.
Rent Out Your Workshop
If you have work benches that you aren't using, plenty of wannabe artisans would put the space to good use. Etsy, for one, has made it easier than ever for craftspeople to sell their handmade wares, but some people lack places to build the beautiful furniture, birdcages or Adirondack chairs they make. Your garage could give them that opportunity.
Rent Out Your Tools
If you have a workbench you aren't using, you might have tools such as saws, drills, power washers, shop vacs and sanders around the garage. For a do-it-yourselfer who needs something for just a few hours, why buy one? Rent your tools by the hour, day or week to someone who needs them.
Of course, you'll need to maintain them in proper working condition. Ask your lawyer to review your rental contract and your insurance agent to look at your homeowners policy to make sure you are protected in the case of equipment malfunction or injury. Inquire with your local jurisdiction to determine whether you need a license to rent tools.
SNAP 2022: Is My State Giving Out Extra Money in April?
Start Your Own Business
Maybe you've considered starting a business in the past but felt constricted by the space in your home to build items. Look at this newly cleaned garage as a blank canvas for your business. Remember this: The Walt Disney Co., Amazon, Apple, Google and Hewlett-Packard are among the biggest American success stories. And they all started in garages.
Rent to an E-Commerce Business
The e-commerce industry is expected to grow to $7.4 billion by 2025, Statista reports. Rent your garage to someone who sells goods online and needs a place to store products or prepare items for shipping.
Things To Know
The extra cushion you need in your household budget very well could be in your garage, and you could start to monetize the space in no time at all, in some instances.
Should you allow others to use your garage, make sure it is clean and well-lit before offering up the space, but also make a couple of key calls. First, review your homeowners insurance with your agent to check for any gaps in liability coverage and upgrade your policy, if necessary. Also, consult with your attorney about creating contracts that cover rent and lease terms, and inquire about the legality of conducting background checks. Since the user of your garage will be on your property and around your family, you should know about the person.
Then, do your homework to find out what competitors charge. When you are ready to advertise your garage for rent as a storage space, workshop or studio, or for another use, ask friends to spread the word or turn to online sites such as Facebook Marketplace to find qualified tenants.
More From GOBankingRates